THE LOCATION
---
Exclusive Serviced Residence in Pattaya
Located in South Pattaya, RCG SUITES PATTAYA is attractively sited atop a cliff amidst surroundings of natural beauty and serene ambience to offer a sanctuary of a private deluxe estate secluded from Pattaya's bustle. At the same time, it is perfectly situated to make the most of this vibrant city resort, and just a short-drive away are shopping, restaurants, entertainment, exotic attractions and other places of interest for an enjoyable holiday. (See Places of Interest.)

Pattaya, located in the southwestern part of Chonburi province and with close proximity to the industrial areas of Chonburi and Rayong, which makes RCG SUITES PATTAYA an ideal choice for expatriates accommodations, just (over 1-hour) driving distance from the industrial operations. (See Industrial Estates for driving guidance.)
Places of Interest In and Around Pattaya
Elephant Village:
The home of the elephants and their mahouts. Here visitors can ride elephants on treks through the countryside and watch daily shows that demonstrate the amazing strength and skills of these national symbols of Thailand.
Temples:
The most well known temple in Pattaya is the Wat Yan Sangwararam, located about 15 kilometers south of RCG Suites. People can walk through its large compound to view a replica of the Buddha's footprints, as well as a collection of pavilions designed in different national architectural styles. A highlight for every visitor is Viharn Sien which showcases Chinese architecture.
Nong Nooch Tropical & Botanical Gardens:
An array of palms, tropical flowers, orchids and other exotic plants are beautifully displayed in these gardens together with some of Thailand's typical animals. Cultural dance and elephant shows are held throughout the day.
Underwater World:
Discover the immense variety of Asia's tropical fishes at this aquarium, where visitors can get close to the marine life via a walk-through Plexiglas tunnel that goes under the water.
Shopping:
Strolling along Beach Road you will find a variety of restaurants, entertainment outlets, and shopping complexes offering everything from international designer clothes to locally produced products.
Entertainment Shows:
Tiffany and Alcazar offer highly enjoyable cabarets that showcase the mimicry and entertainment talents of vivacious lady boys. Alternatively, the Alangkarn show focuses on depicting Thai history in a blossom of cultural style filled with dynamic performers and elephants.
Nightlife:
Walking Street Pattaya is among the most exiting streets in the world if you like to have fun. Here you find all kinds of entertainment, from bars, discos, go-go bars, cabaret shows and much, much more. Besides the kaleidoscopic entertainment you can also find a wide variety of restaurants serving seafood, Indian, Italian, European, Thai and other cuisines.
Water Sports:
Pattaya is renowned for its wide range of water activities from jet skis and water-skiing to parasailing, scuba diving, windsurfing, banana boats and fishing. Pattaya's own Marina allows you to rent yachts or smaller boats to sail and race out of the Royal Varuna Yacht Club.
Golf:
There are more then 18 golf courses within easy reach from RCG Suites. All are among Asia's best with excellent challenging layouts, while added attractions include stylish clubhouses and wonderful caddies to ensure a truly unforgettable golf holiday.
Go-Karts:
Pattaya's exiting go-kart circuit near walking street will get your adrenalin up in a second, racing the karts around the tracks. Suitable for beginners and experienced drivers.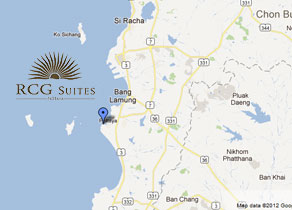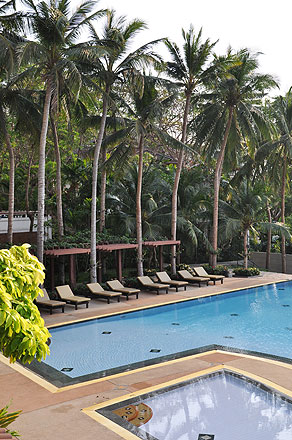 Industrial Estates
Industrial estates in Chonburi and Rayong provinces are within a 2-hour driving distance and are easy accessible via the different expressways that connect the two provinces. From Bangkok, Expressway 3 passes through Chonburi City, Sri Racha, Laem Chabang seaport, Pattaya, Jomtien, Sattahip and on to Rayong. Another shorter possibility is to take Expressway 7 coming from Bangkok, turning onto Expressway 36 and then re-connecting with Expressway 3.
Industrial Areas in Chonburi Province:
Amata Nakorn Industrial Estate
Saha-Group Industrial Park - Sriracha
Leamchabang Industrial Estate
inthong Industrial Estate
Chon Buri Industrial Estate - Bo Win
Nong Bon Garden Industrial Zone
Industrial Areas in Rayong province:
Amata City Rayong
Eastern Seaboard Industrial Estate (Rayong)
Eastern Industrial Estate (Map Ta Phut)
Map Ta Phut Industrial Estates
Siam Eastern Industrial Park
Thai Singapore 21
Padaeng Industrial Estate
G.K. Land Industrial Park
T.C.C. Industrial Park (Rayong Larp Industrial Park)
Rayong Industrial Land
Rojana Industrial Park (Rayong)
SSP Industrial Park
Note: The above is not inclusive of all industrial areas.